Posted By GlitterBerri at 1:15 PM on Wednesday May 29, 2013
At the Pokémart
Caption: This picture reveals that trade and capture weren't the only ways to obtain Pokémon. The idea of buying creatures existed in early development.
"Hey, Mister, I'll take this one, please."
"Lapras… I dunno if you're tough enough to handle it yet, kid…"
Translator's Notes
This picture may indicate that the concept of players having to attain more power before being able to control certain Pokémon was already in place in the early stages of development. This is reminiscent of Ash's Charizard in the anime, and the
obedience effect of badges in the games.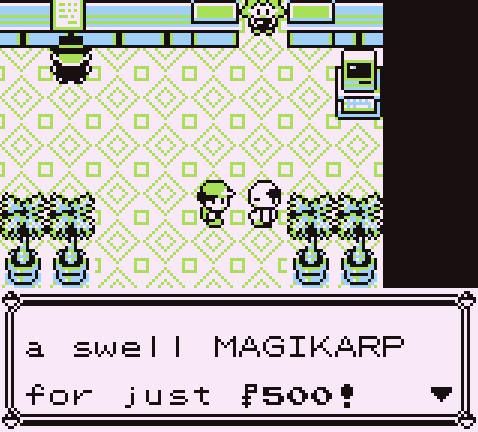 The idea of buying and selling Pokémon was never really fleshed out in Generation 1. The only way to "buy" Pokémon is to trade your game tokens for them at the Celadon City Game Corner's prize exchange. The con man on the route to Mount Moon also offers to sell the player a Magikarp for
500. (Remember, that's about $5 in American currency.)
Index
| | | |
| --- | --- | --- |
| Page # | Category | Title |
| Page 01 | Intro | Life Before Pokémon |
| Page 02 | Design Doc | Tajiri's Pokémon Vision |
| Page 03 | Concept Art | Adventuring With Pokémon |
| Page 04 | Concept Art | A Battle Between Trainers |
| Page 05 | Concept Art | A Day in the Life |
| Page 06 | Concept Art | A Battle Between Pokémon |
| Page 07 | Concept Art | Trading Pokémon |
| Page 08 | Concept Art | At the Pokémon Hotel |
| Page 09 | Concept Art | Catching Pokémon |
| Page 10 | Concept Art | At the Pokémart |
| Page 11 | Concept Art | Status Screen |
| Page 12 | Concept Art | Battle Screen |
| Page 13 | Concept Art | Opening Sequence |
| Page 14 | Concept Art | Overworld |
| Page 15 | Sprite Art | Sprites |
| Page 16 | Outro | A Brief Conclusion |
Pages: 1 2 3 4 5 6 7 8 9 10 11 12 13 14 15 16
Return to Pokémon Red & Blue Index