Posted By GlitterBerri at 1:15 PM on Wednesday May 29, 2013
At the Pokémon Hotel
Title: Hotel Check-In
Caption: This valuable piece of concept art reveals that hotels existed in early development.
Caption: Inside a hotel room. Aspects such as the figure of the girl restoring her Pokémon's health using a healing apparatus give viewers an idea of how science coexists with humans and Pokémon.
Translator's Notes
Pokémon Centers may have originally been conceptualized as hotels. This is supported by the fact that that, in the anime, the centers provide lodging for Pokémon trainers.
The lone hotel in RGB is located in Celadon City. It shares the same tileset as the game's Pokémon Centers, including the counter, floor tiles, palm trees, and couch.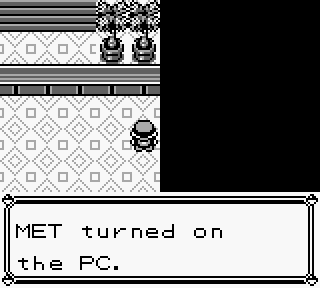 The Celadon Hotel and the player's house are also the only buildings in the game, aside from Pokémon Centers, to have PCs. (However, the player's PC can only be used to store items.) If you don't remember the PC in the hotel, that's because it's invisible. It sits at the far right of the lobby, in the same position you would expect to find it in a Pokémon Center. Players can access the PC by pressing A while standing in the position shown in the screenshot above. It was later removed in Pokémon Yellow.
Index
| | | |
| --- | --- | --- |
| Page # | Category | Title |
| Page 01 | Intro | Life Before Pokémon |
| Page 02 | Design Doc | Tajiri's Pokémon Vision |
| Page 03 | Concept Art | Adventuring With Pokémon |
| Page 04 | Concept Art | A Battle Between Trainers |
| Page 05 | Concept Art | A Day in the Life |
| Page 06 | Concept Art | A Battle Between Pokémon |
| Page 07 | Concept Art | Trading Pokémon |
| Page 08 | Concept Art | At the Pokémon Hotel |
| Page 09 | Concept Art | Catching Pokémon |
| Page 10 | Concept Art | At the Pokémart |
| Page 11 | Concept Art | Status Screen |
| Page 12 | Concept Art | Battle Screen |
| Page 13 | Concept Art | Opening Sequence |
| Page 14 | Concept Art | Overworld |
| Page 15 | Sprite Art | Sprites |
| Page 16 | Outro | A Brief Conclusion |
Pages: 1 2 3 4 5 6 7 8 9 10 11 12 13 14 15 16
Return to Pokémon Red & Blue Index